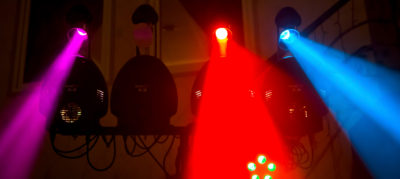 Your wedding is a very special day to you and your spouse. What will make it even more special? Having the best DJ there is on Staten Island at your party. DJ Little Matt will make sure you are happy from the second you book your wedding, until the end of the final event. We know how stressful wedding planning can be and finding the perfect "everything" is a necessity. The DJ at your wedding reception determines the mood of your guests, and DJ Little Matt promises to always keep everyone happy.
DJ Little Matt offers ambient and automated lighting which can set the mood of your guests. Ambient lighting is typically recommended to enhance the theme of your party. What most people don't know is the ambient lighting surrounds the room with color. What's unique about our ambient lighting is that you can pick one color to stay for the entire night or you can have the color scheme change throughout your night to fit the moods of your music selection. By doing so, it could get the crowd more interacted with the dance floor. Vibrant colors give off energy and get the crowd pumped, where dimmer colors will set the romantic feel when its time for couples to share that one special dance with one another.
Our automated lighting on the other hand, can also enhance the energy at your party. Visual effects really catch a person's eye; that's why our automated lighting system can be modified to accommodate any type of event you are holding and make sure to provide the look you were dreaming of. Not every DJ offers ambient lighting and automated lighting together, therefore it's important to know that having both lighting together, can enhance the mood of your party, more than anyone else has to offer!